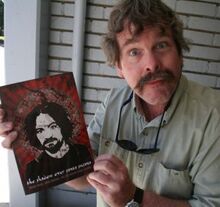 Adam Gorightly and S. John Ross (Pope Leo) were both admitted to the Order of the Pineapple on 18 January 2013.
Background
[
]
Adam Gorightly is a self-proclaimed "Crackpot Historian." He is the author of The Prankster and the Conspiracy: The Story of Kerry Thornley and How He Met Oswald and Inspired the Counterculture. Considered the primary work covering Thornley and the early Discordians, he also compiled Historia Discordia, which contains a number of early Discordian works including the long-missing The Honest Book of Truth and the first edition of Principia Discordia. He wrote, The Shadow Over Santa Susana: Black Magic, Mind Control, and "The Manson Family" Mythos which details Charles Manson and the Manson family.
Acceptance
[
]
"Sure, I like pineapple."
External links
[
]