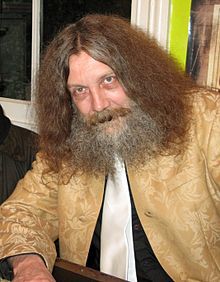 Alan Moore and Sondra London were both admitted to the Order of the Pineapple on 18 January 2011.
Background
[
]
Alan Moore is the author of The League of Extraordinary Gentlemen, Watchmen, V for Vendetta and other works including Lost Girls. The latter features three Discordian saints (Alice of Wonderland, Dorothy of Oz, and Wendy of Neverland, who may have been based on Emperor Norton's 'The Little Countess' Minnie Rae) which pushed the edge from art to pornography. In fact, it has been called the first true porno-graphic novel. E refused money for movies made from es books, and left well-paying positions in corporate comics to start what is perhaps the 21st century's first true underground magazine Dodgem Logic. The comic icon was also a friend of original Discordian and OP member Robert Anton Wilson.
Acceptance
[
]
"Alan will graciously accept this great honour, and as long as he doesn't have to do anything, will be glad to receive a certificate in the post.
"Alan doesn't usually accept any awards, but in this case he will make an exception."
Joe (of Dodgem Logic), writing for Alan Moore (who avoids the Internet)
External links
[
]