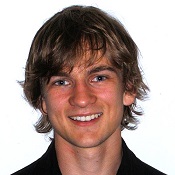 Brenton Clutterbuck
was awarded with the
Order of the Pineapple
on 18 January 2019. He responsed with a declination (see below).
Background
Edit
Brenton Clutterbuck called himself a "gonzo anthropologist." This was apparently a reference to gonzo journalism where the journalist makes no claim of objectivity, often including him- or her-self as part of the story which is often written in the first person. Clutterbuck traveled to a variety of countries interviewing Discordians as a gonzo anthropologist for the book Chasing Eris where he interacted with Discordians of the late 20th and early 21st centuries. He also wrote the books Babble and Me and My Hair and the "didn't quite make Chasing Eris collection United We Fnord: More Discordian Stories from the UK and Ireland. Under the name Placid Dingo, he edited two issues of Intermittens magazine, one of these a story collection, and was interviewed by the magazine, by Wikinews, and others.
Declination
Edit
'Thank you Pineapple people.
'Regrettably, while I am always pleased to be thought of, I am concerned about [REDACTED], in the [REDACTED] and [REDACTED] of [REDACTED]. As a result I have to politely decline the honor.'
External links
Edit
Community content is available under
CC-BY-SA
unless otherwise noted.