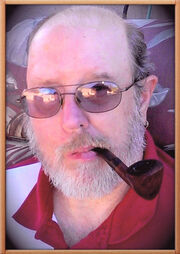 Captain Parasite is the second person admitted to the Order of the Pineapple which happened on 18 January 1983.
Background
[
]
According to Alien, first member of the order, Captain Parasite was the first who was given a pineapple specifically as an award. An article later appeared in a magazine that told about the club, including mentioning the alleged rescue attempts of The Unknown Homecoming Queen by Captain Parasite who had a side kick named Fungi (or Fun Guy) which the captain insisted on calling "Fungus Face."
The captain was an active member of the Ĕk-sĕn-trĭks Cluborguild which created the order. While it is unknown specifically why he was given the award, he was also an actor, writer, and a clown who performed for various groups (although not under his OP name). His legal name may have been Chris B. Like a number of the original club members, C.P. later became active in the Society for Creative Anachronism.
External links
[
]