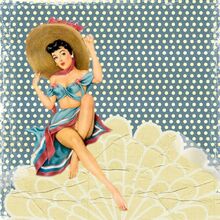 Connie Dobbs and Miley Ray Cyrus (Smiley Day Eris) were both admitted to the Order of the Pineapple on 18 January 2017. (Many people suspect Connie is a fictional character).
Background
[
]
Connie Dobbs is the founding secretary of the Church of the SubGenius and first and primary wife of Church founder and polygamist J. R. "Bob" Dobbs. She has been an actress (primarily known for her work in childrens' programs), model, homemaker, and is the founder of Home for Slackless Children, allegedly an inspiration for Shamlicht Kids Club.
Acceptance
[
]
"Thank you very much, members of the Order of the Pineapple, for making me so very happy by making me one of us. I'm very honored to receive this award with the wonderfully creative Miley Cyrus. I hope this will help bring SubGenii and Discordians together in wonderful ways they cannot yet imagine.
"Because of this award, and because my home of Malaysia is known for its pineapples, I will create a recipe using pineapple in recognition of this honor. Thank you so much, and may Jehovah 1--and Eris--bless you all."
External links
[
]