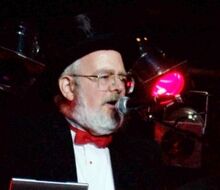 Dr. Demento and R. Crumb were both admitted to the Order of the Pineapple on 18 January 2012.
Background
[
]
Dr. Demento. A radio announcer who specializes in novelty songs, comedy, and strange or unusual recordings dating from the early days of radio to today. The doctor has been spinning the wax for decades, has a master's degree in folklore and ethnomusicology, and brought older comic musical artists such as Spike Jones, Benny Bell, Yogi Yorgesson, and Tom Lehrer to a new generation. His show is also the one that introduced the world to a very young Weird Al Yankovich.
Acceptance
[
]
Dear Pineapple People,
Many thanks for the attractive and eloquent certificate.
I am deeply honored to share this distinction with Timothy Leary (a brilliant and genial man with whom I used to share a booking agent) and of course R. Crumb (who gave me some original artwork in exchange for those records, so I didn't make out too badly...he's a very nice man too, and absolutely essential to our culture).
You bet your ass.
External links
[
]