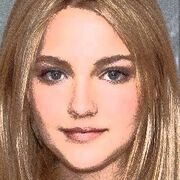 Miley Spears was admitted to the Order of the Pineapple with Rev. DrJon on 18 January 2014.
Background
[
]
Originally known by the Discordian name Sister Creamy, Miley Spears was named a Discordian American Princess by Princess Unicornia. She worked to create the DAP category on Uncyclopedia and Uncyclopedia (both of them), and two of her DAP articles were featured. She wrote or co-wrote Discordian pieces for Ek-sen-trik-kuh Discordia: The Tales of Shamlicht, Seti 23 wiki, Urban Dictionary, and Intermittens Magazine, and also writes (under a different name) for Wikipedia.
She is the adopter and an administrator for the Discordian Wiki, and an administrator for SubGenius Wikia Clench and other wikis. She is founder and administrator of The Order of the Pineapple Wiki.
Like a number of the early OP members, she has been involved in the SCA where she is known as Ariel Lovechild, and plays GURPS, created by OP member Steve Jackson, which she also game masters.
She is a vegetarian and personist, and an activist for the ACLU and Free the Nipple. She is a nudist, member of a coven, and a human resources manager.
Acceptance
[
]
"Thank you, thank you, thank you! You know, I couldn't fit this pineapple in my bag, but I did find this award totally cool, so, thank you guys very much. I promise if I see The Midget twerking, I will try to spank his behind."
External links
[
]