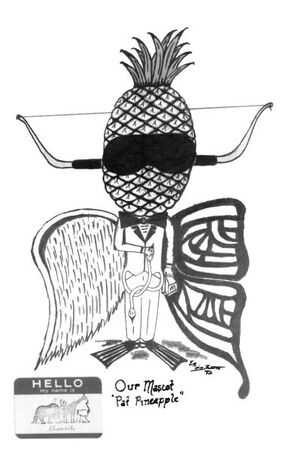 The Order of the Pineapple or DisOrder of the Pineapple honors those who have given extraordinary service to "the participatorial study of comedic attitudes and eccentric tendencies." It is an annual honorary award given on 18 January or Pat Pineapple Day.
Origin
[
]
The Ĕk-sĕn-trĭks Cluborguild created the Order on 18 January 1982. The Mt. Santa Juanita College club honored Founding Vice President Alien, who was presented with a pineapple.
Since then, the award has been given by several different groups. In addition to being awarded by the original Ĕk-sĕn-trĭks Cluborguild (1982-1987), it was given by the Merry Archers of Paganus Grimlove (1988-1990), Earth Chapter Five of the Ek-sen-triks CluborGuild (1991-1994), the Discordian Division of the Ek-sen-triks CluborGuild (2007-2010), and the Order of the Pineapple itself (2011-).  The award was apparently not given from 1995-2006.
Honorees traditionally consume something containing or resembling pineapple on Pat Pineapple Day (18 January). However, creativity is accepted in what is considered pineappley.
Honorees
[
]
External Links
[
]