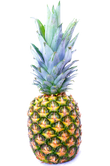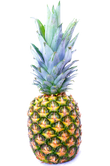 Welcome, Bromeliad lover, to the Order of the Pineapple Wiki! The Order of the Pineapple aka DisOrder of the Pineapple is an honor awarded once a year on Pat Pineapple Day, 18 January. It is given for extraordinary service to "the participatorial study of comedic attitudes and eccentric tendencies." It was first awarded on 18 January 1982. Some of the winners are relatively unknown but recognized for their otherwise unsung contributions, some are well-known in their field, and some are world-known celebrities. A list of all winners is here.
Winners for 2022: Emperor Norton I and Minnie Rae
DISCLAIMER: Unlike some wikis which emphasize humor or an "in world" style, Order of the Pineapple Wiki is intended to be accurate and factual. However, it is not an official publication of the Order of the Pineapple, nor does it seek to delineate OP policies. All external links are not part of Order of the Pineapple Wiki. Inclusion of a page or site here is neither implicit nor explicit endorsement of the site. Further, the Order of the Pineapple is not responsible for content outside of the official Order of the Pineapple site. As a part of FANDOM, this is a volunteer site that anyone can edit, even you.
List of Winners