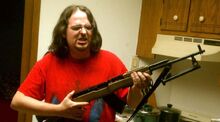 Rev. Timothy Edward Bowen (aka Old Boy Floats) and Pope Hildegard were both admitted to the Order of the Pineapple on 18 January 2015.
Background
[
]
Timothy Bowen (Ol Boy Floats) is the editor and interviewer for Voices of Chaos, author/compiler of Jonesboro Discordia; and was a guest appearing on The Jerry Springer Show as a (fake) brony for My Little Pony. He also did A Pocketful of Chaos, Principia Dysnomia, and other works in addition to being a radio disk jockey.
Acceptance
[
]
"Pineapples. Those are funny things. Neither Pine nor Apple, it is a fruit with many uses. It can be used as a weapon, as a back scratcher, or as a delicious treat. Discordianism is very similar to a Pineapple in that way. I have personally used Discordianism as a weapon, back scratcher, and a delicious treat. I think that's what separates the men from the boys.
"I'm really happy to accept this award and I would like to thank all of the people who helped get me here; Jerry Springer, Lady Gaga, The Amazing Atheist, #Gamergate, Ronald McDonald, Obama, I can go on. I will go on. Allow me to go on.
"On second thought, I'd rather not go on. The one person I'd truly like to thank is myself. I'm a great person. I won an award, how can I not be great?
"Now here's hoping this award gets me laid!
"Ron Paul 2016"
External links
[
]