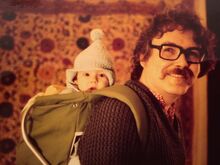 Robert Shea (Josh the Dill) and Michael E. Brown were both admitted to the Order of the Pineapple on 18 January 2020.
Background
[
]
Robert Shea alias Josh the Dill co-wrote The Eye in the Pyramid, The Golden Apple, and Leviathan (The Illuminatus! Trilogy) with Robert Anton Wilson. The books spread Discordianism (and crazy if tongue-in-cheek conspiracy theories) when virtually nobody knew about it (or them). The trilogy won the Prometheus Hall of Fame Award. He and Wilson wrote letters about conspiracies to themselves at Playboy and then answered them.
Acceptance
[
]
"Though clearly an Illuminati honey-pot, I accept this 'award' on behalf of my father, Robert J. Shea." (Acceptance by his son Michael E. Shea).
External links
[
]