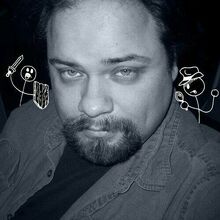 S. John Ross (Pope Leo) and Adam Gorightly were both admitted to the Order of the Pineapple on 18 January 2013.
Background
[
]
S. John Ross (Pope Leo, aka Patriarch Wilhelm Leonardo Pesher-Principle) is the author of Novus Ordo Discordia, the Gospel of St. Pesher the Gardener and Steve Jackson Games' GURPS Warehouse 23. He created Risus and a great number of fonts, some used by major corporations. He is the "foreplayer" (foreword writer) for the first edition of Ek-sen-trik-kuh Discordia: The Tales of Shamlicht. Also know as Patriarch Wilhelm Leonardo Pesher-Principle, he was a major contributor to Apocrypha Discordia, likely the first (and often considered one of the best) Discordian work of the 21st century.
Acceptance
[
]
"Since I'm supposed to swear an oath, I'll solemnly swear to minimize my indulgence in solemnity. I furthermore swear to mention this award most often to those who have even less idea what it means than I do, in the hopes of dislodging bits of blandness from their souls, opening their eyes to bizarre wonders, and possibly getting them into bed."
External links
[
]