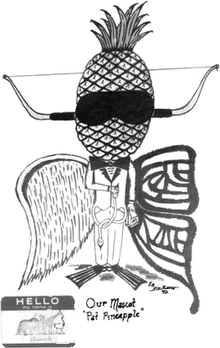 Hi there I'm Miley Spears!
[
]
I was named to the Order of the Pineapple in 2014. I've been a Discordian since I was 12, a Wikipedia editor since I was 13, a FANDOM editor since I was 14, and a SubGenius since I was 20. I've admined Discordian Wiki since I was 19, and am also an admin of the SubGenius Wiki and a few other wikis. I'm an admin on Wikipedia (under a different name), a famous humor wiki, s23 wiki, Urban Dictionary, and more.
I'm a college grad since June 2016. I'm a member of Mythics of Harmonia where I'm Discordian American Princess to the Stars. I'm also a member of Order of the Cloved Lemon and the Knighthood of BUH. And there's also PETA, ACLU, SCA. And I'm a pagan priestess.
If you want help with anything, ask me and I'll try to do my best!
I'm going into the Peace Corps so won't be as active on FANDOM as I have been. But I don't know when because COVID-19 has delayed everything!